By Lauren Schiavone
Weekly Hometown Staff
This summer has been full of great weather and lots of outdoor activities. As COVID restrictions ease and programs return to full capacity, the Sherborn Council on Aging has held their weekly walk on the Holliston Rail Trail.
Starting the day off right, people gathered at the Central Street lookout early Thursday morning July 14 for a walk.
In addition to the excursion, Assistant Director Kristina Gallant has planned the next COA event, a kayak excursion on Farm Pond. Walkers picked up the trail quickly as most have been walking steadily for a few years now. "We started in May 2020 at the height of COVID. We were closed and wanted to do something outside. We wore masks for a long time until the vaccinations came out.
"It's my favorite time of day. We take our steps, we see each other. It's really great to be here with everyone," Gallant smiled and carried on with the active group. For about an hour, the elderly walked about three miles in total to Summer Street and back to the lookout. A flat, well-maintained walking path spanning Holliston's Upper Charles Trail provided a great excuse to hang out and chat with friends. The route from Central Street to Summer Street, known as the "Stone Dust Trail," offers views of several footbridges, the Phipps Tunnel, and even a family stable, complete with a clearing to watch the horses roam. Picnic tables and benches are also available for sitting and relaxing.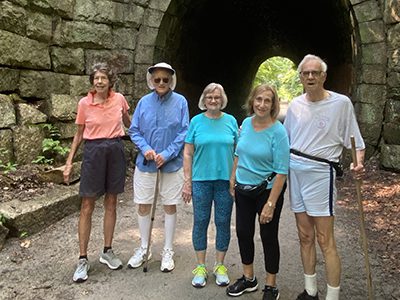 Walkers discussed the weather and city news while picking up the pace. Luckily the trail was cool and shaded. People were encouraged to walk at their own pace. The group usually has between five and twelve walkers, equipped with sneakers, hats and some with walking sticks.
The Sherborn COA sends out weekly emails and a calendar of events is available on their website. Further information is available at www.sherborncoa.org